Cleaning and maintenance tips for your Karndean floor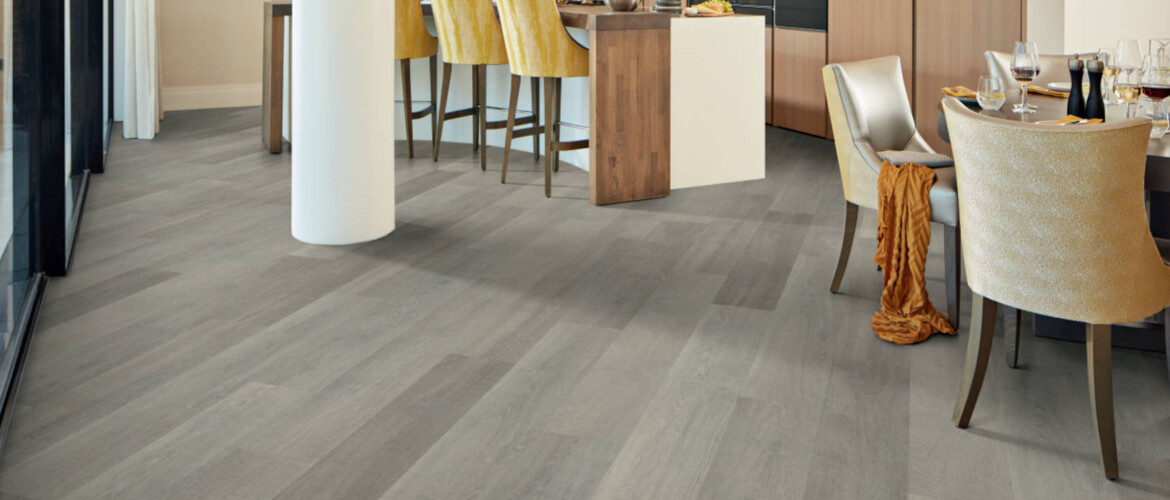 If you've opted for Karndean flooring in your home, well done you! It really is the perfect choice for every room in the house, offering waterproof, durable, hygienic, family-friendly luxury vinyl flooring that can take anything you and your family can throw at it. Its enhanced protective surface treatment means that the hardwearing floor shrugs off dirt and spills.
In fact, one of the main benefits of having Karndean flooring in your home is that it is so easy to look after! A little bit of regular cleaning and maintenance, you can keep your floor looking as beautiful as on the first day.
First clean
After your Karndean flooring installation is complete, your floor fitter can advise how to long to wait before walking on the new floor. Karndean recommend that you should wait at least 24 hours before cleaning a newly fitted floor. After that, proceed as follows:
Remove loose debris from the floor with a soft brush or dust mop and make sure that all dry adhesive is removed from the surface, using Karndean Remove with a non-abrasive scouring pad or the coarse pad from the Karndean Floor Care Kit. Then clean the floor with a pH neutral cleaner and a damp mop.
Make sure you have your Karndean Floor Care Kit ready for use. The easiest way to buy yours is in-store at Greg Stone Flooring at the same time you purchase your Karndean floor.
Regular clean
To keep your Karndean floor looking its best for the long term, follow these simple cleaning steps:
Sweep the floor with a soft brush or damp mop to remove dust and loose debris. If you prefer to use a vacuum cleaner, it is advisable to check with the manufacturer to ensure it is suitable for use on a Karndean floor. Please note that Karndean do not recommend the use of a steam mop.
Use a pH neutral cleaner such as Karndean Clean to wet clean your floor, diluting 50ml of detergent in 8-10 litres of water. Mop the solution onto the entire floor surface and remove any excess liquid. Ensure the floor is completely dry before walking on it.
Avoid the use of cleaning products that contain bleach or other household chemicals, since they could damage your floor.
How to deal with spillages
Your Karndean floor will have been expertly fitted tightly, ensuring that spillages cannot seep through the edges of the tiles or custom cuts. Any liquid splashes or spills can simply be mopped up, using a dilute solution of Karndean Clean or similar cleaning product. To reduce any risk of staining on your Karndean floor, mop up spills as soon as possible.
How to remove stains
Thankfully, most spills won't affect your Karndean floor, especially if they are mopped up straightaway. That said, solvent-based liquids, wine and some spices can leave a mark. Stubborn stains can be removed by spot cleaning with undiluted Karndean Clean or Karndean Remove using a non-abrasive scouring pad.
To increase the level of protection against this type of damage, it is recommended that you refresh the surface layer of your Karndean floor every 12-18 months using Karndean Remove and Refresh.
How to protect against scratches
While Karndean floors are extremely hardwearing, it makes sense to protect it from scratching. In entrance areas, put down door mats to protect from grit and moisture, taking care to avoid rubber-backed mats since they can cause discoloration of the floor. Avoid sliding or dragging heavy furniture across the floors, and place floor protector pads under chair and sofa legs and other heavy items.
Contact us
At Greg Stone Flooring, we're proud to be the leading independent flooring specialist in Sussex, offering a huge range of Karndean luxury vinyl wood floors and premium stone effect floors at highly competitive prices.
Our experienced team is passionate about the quality, appearance and texture of Karndean floors. We offer a comprehensive installation service as well as a lifetime wear guarantee for all Karndean flooring prepared and installed by us, along with plenty of aftersales advice. Please get in touch to discuss your Karndean flooring requirements and any queries you may have about installation, maintenance and upkeep.